A new decade and a significant year for Beethoven enthusiasts. Fifteen years ago I embarked on my first Beethoven cycle and much though I would love to revisit the 32 sonatas I am opting instead to curate a series of concerts with the theme, "Beethoven in Heaven". I owe the title to Edith Vogel who described the late sonatas of Schubert, written after the death of Beethoven, as being like Beethoven in Heaven. There will be a number of concerts throughout the year on this theme with varied repertoire including piano duets (with Mayumi Iida) and piano trios (with the London Mozart Trio) as well as solo repertoire. On October 10th 2020, I will perform Beethoven's Diabelli Variations and Schubert's last sonata, D.960, in St John's Smith Square in London.
It seems a long time since Krzysztof Smietana and I embarked on the cycle of Beethoven's Violin Sonatas and it is appropriate that it will finally come to a conclusion this year. With luck we should be recording the sonatas and maybe will be making some more videos for YouTube to accompany our gratifyingly successful perormance of the Spring Sonata.
Surprisingly my first performance of the year will not include Beethoven. Brahms G minor Piano Quartet with Dimitar Burov, Jon Thorne and Lionel Handy at Imperial College , 1.00pm on Thursday 30th January. My latest YouTube video is an upload of a recording made twenty years ago in Potton Hall with the wonderful producer Trygg Tryggvason and engineer Andrew Hallifax of Schubert's Sonata in A minor D.845
Read more.
If you cannot make the live concerts there are plenty of YouTube videos and commercial CDs available. Remember, one CD sold generates more revenue for the artist than a thousand plays on Spotify.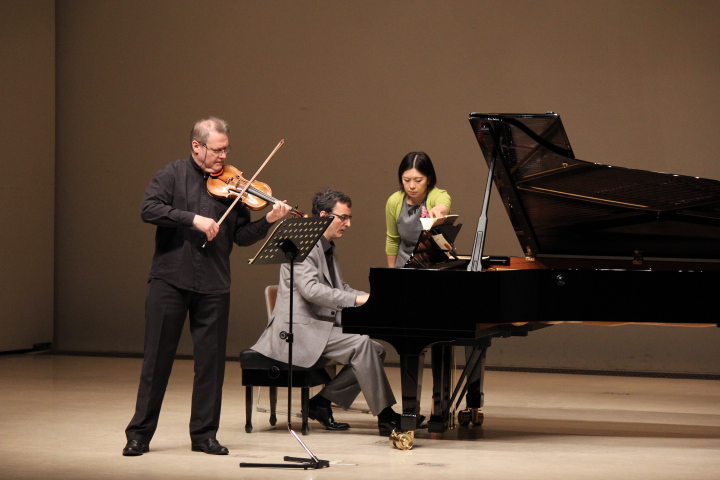 Krzysztof Smietana and Colin Stone (photo K Takizawa)