Perhaps the Sentinelese had a good year in 2016; untroubled by news of politics, genocide and religious hatred, it would be good to think that they enjoyed better than average health and that the weather was kind. For many here in the U.K. 2016 was, at the least, disturbing and divisive. For me personally, 2016 was the year when I discovered that the deterioration in my eyesight and general wellbeing was not age related but rather the consequence of a pituitary gland tumour. Fortunately, we still have a wonderful NHS and at the end of 2016 I had the offending 'benign' lump removed and am now fully recovered.
So, 2017 has to be the year of offering thanks and planning to make the best of an uncertain future. To this end I have recently recorded a CD of music by Schumann, Chopin, and Rachmaninov : Kreisleriana, Polonaise-Fantasy and Moments Musicaux respectively. When the CD is finally printed I intend to give £5 for each disc sold online to the National Brain Appeal.Moreover, I am delighted to report that EDmissionUK are going to match my donations.
Also, I am trying to organise a collaborative chamber music festival to take place in and around London just after Easter 2018: a feast of multinational and inter-generational music making to show what can be done in a spirit of cooperation and mutual respect. I will be looking for support of all kinds; financial and administrative as well as musical. If you would like to get involved please don't hesitate to use the contact button at the bottom of the page even if it is just to register for inclusion on our mailing list for future events.
Read more.
Colin's Beethoven cycle continues and recordings of the Spring Sonata and Op.109 can be heard on YouTube. There are also some recordings of live performances now on SoundCloud and on this website. Colin's next recording project is with the violinist Krzysztof Smietana: violin sonatas by Respighi and Busoni.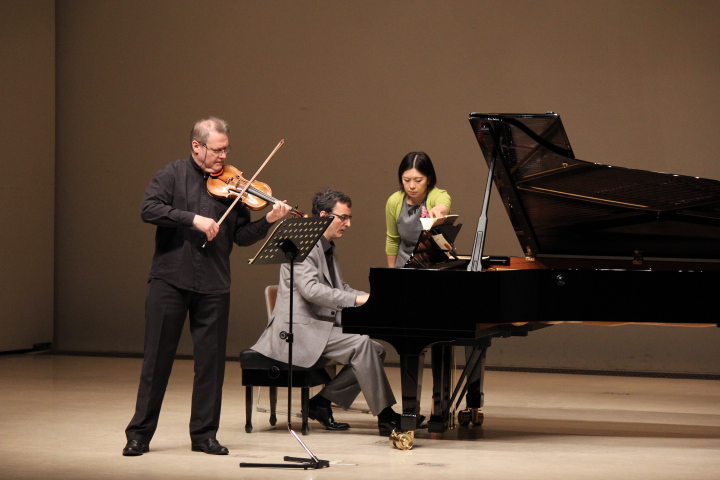 Krzysztof Smietana and Colin Stone (photo K Takizawa)