As I write this the crowdfunding project, CD for the National Brain Appeal is in full swing and the pledges are mounting up. The aim is to raise £3500 to cover the major production costs of a CD specially produced for the National Brain Appeal. Any pledge is welcome and there are rewards of CDs and concert tickets which I am more than happy to donate to help us reach the target.
We are planning a launch concert in St.George the Martyr, a church in Queen Square itself, at the very heart of the National Brain Appeal, on Saturday 24th February 2018. The piano will be provided by Peter Salisbury from the Royal Festival Hall fleet and the programme will be the same as the CD; Schumann Kreisleriana, Chopin Polonaise-Fantaisie and Rachmaninov Moments Musicaux.
Also, I am trying to organise a collaborative chamber music festival to take place in and around London just after Easter 2018: a feast of multinational and inter-generational music making to show what can be done in a spirit of cooperation and mutual respect. I will be looking for support of all kinds; financial and administrative as well as musical. If you would like to get involved please don't hesitate to use the contact button at the bottom of the page even if it is just to register for inclusion on our mailing list for future events.
Read more.
Colin's Beethoven cycle continues and recordings of the Spring Sonata and Op.109 can be heard on YouTube. There are also some recordings of live performances now on SoundCloud and on this website. Colin's next recording project is with the violinist Krzysztof Smietana: violin sonatas by Respighi and Busoni.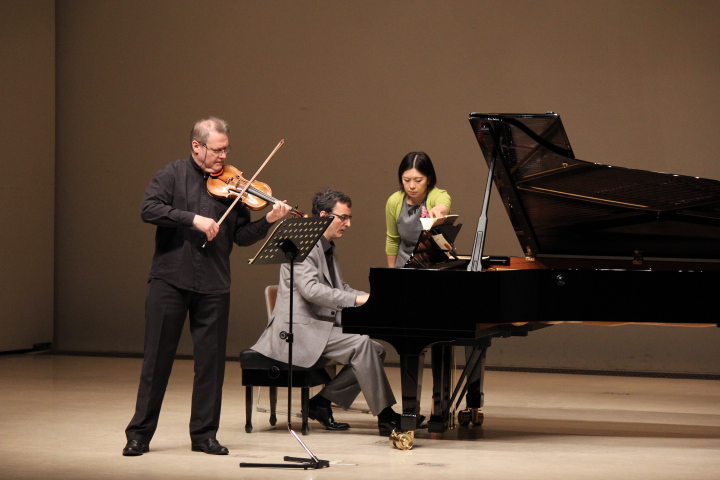 Krzysztof Smietana and Colin Stone (photo K Takizawa)