Shostakovich 24 Preludes and Fugues
Big Ears BE005 (2 CD set: disc 1 Nos. 1-13; disc 2 Nos. 14-24) [recorded 2007]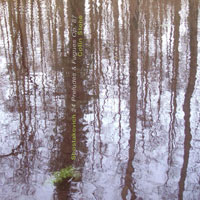 BE005
Dmitri Shostakovich 24 Preludes and Fugues, Op. 87
(Audio sample: Prelude No. 24 in D minor 3'28'')
Buy this CD using Paypal
.
The music needs to be delivered with commitment, sensitivity to the architecture and the often opaque emotions, and … love: this it receives from Colin Stone…. Most listeners make a journey in their appreciation of Shostakovich, and as time passes since the composer's death, the music continues to emerge in new light. Stone is an artist who moves us forward along the path towards the emerging truth of his finely wrought music.
—Graeme Kay, International Piano, January 2010
Shostakovich wrote his Preludes and Fugues in 1950 after the models of Bach's Well-Tempered Clavier and the key scheme of Chopin's 24 Preludes, largely inspired by the playing of Tatyana Nikolaeva. Colin Stone plays them with tremendous beauty, affection and a sort of self-effacing brilliance: technically dazzling pieces such as the A minor Prelude have plenty of rapidity and glitter, yet without any hard edges or showoff brashness. Instead, his playing is sensible, well-reasoned and engaging; it's like listening to a fascinating discussion between the fugal voices about what Bach and Chopin really meant to the troubled Russian genius.
—JD, Classic FM magazine, March 2010
Williamson, Tchaikowsky, Keeley
Merlin Classics MRFD 20033 [recorded 2001]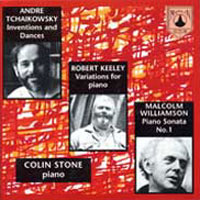 MRFD 20033
Malcolm Williamson Piano Sonata No. 1 · André Tchaikowsky Tango, Mazurka, Inventions for Piano · Robert Keeley Variations for Piano
(Audio sample: André Tchaikowsky Tango 3'26'')
Buy this CD from Merlin Classics.
The driving power of Keeley's shaping spirit and the felicity of his invention are unmistakable. Stone plays the work superbly.
—Paul Driver, Sunday Times Magazine, September 1999
Dmitri Shostakovich Five Preludes
Olympia OCD 574 [recorded 1995]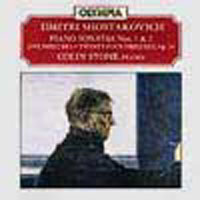 OCD 574
Piano Sonata No. 1, Op. 12 · Twenty-four Preludes, Op. 34 · Piano Sonata No. 2, Op. 61
Buy this CD from Amazon.
The overwhelming mastery of the playing is never in doubt … this is a highly desirable release.
—Eric Levi, Classic CD, April 1996