Winner of the 1986 Royal Overseas League Piano competition, Colin Stone enjoys the successful career predicted for him by Sir Charles Groves, as a solo pianist and as a member of the London Mozart Trio.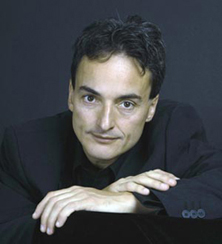 Colin Stone
Colin has a particular affinity with the music of Shostakovich, and during the 2006 centenary year, he performed at Cadogan Hall a single recital of all 24 Preludes and Fugues, Op. 87, a work that he has since recorded. With Rustem Hayroudinoff, he gave the first performance in the West of the two-piano version of the Fourth Symphony, Op. 43a. 'A revelatory performance of a spectacular 20th century masterwork. Hayroudinoff and Stone impress with their knowledge of the score, giving a well-prepared, gutsy performance' wrote Gramophone of this recording.
(cont'd)
Other recordings include major works for solo piano by Schubert, Chopin and Schumann and Prokofiev (piano transcriptions of Prokofiev's own theatre music) as well as music by such contemporary composers as Andre Tchaikovsky, Malcolm Williamson and Robert Keeley. As part of the London Mozart Trio, Colin has recorded Shotstakovich's two Piano Trios and the Piano Quintet.
The quintet recording has been much praised by the prestigious American Fanfare Magazine, which described Colin's playing as 'challenging Richter'. In June 2008, Classic FM Magazine nominated the CD as instrumental and chamber CD of the month.
Colin combines his busy career as a pianist with his work as a professor of piano at the Royal Academy of Music and Royal Northern College of Music, and as artistic director of the LMT Chamber Ensemble. Members of the Ensemble, which includes the London Mozart Trio, perform regularly at major London venues, notably Wigmore Hall. The Ensemble also gives concerts and recitals throughout the UK and abroad.
[December 17, 2009]