Winner of the 1986 Royal Overseas League Piano competition, Colin Stone enjoys the successful career predicted for him by Sir Charles Groves, as a solo pianist and as a member of the London Mozart Trio.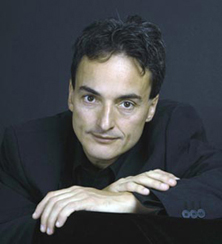 Colin Stone
In 1989 he made his debut on BBC Radio 3 and, following the success of his live Concert Hall broadcast in 1990, playing works by Chopin, and Prokofiev's 8th Sonata, he made a number of broadcasts of major works by these and other composers. Colin gave the world premiere of Keeley's piano concerto Entourages in a live broadcast on BBC Radio 3 with the BBC Symphony Orchestra in March 2001 under Grant Llewellyn
A highlight of 1992 was a tour of Canada which included a recording of a live recital at Concordia University for CBC in Montreal. Later that year he began a series of recordings for Pickwick's IMP Masters label with the then recently formed London Mozart Trio. Their recordings of Trios by Schubert and Dvorak were enthusiastically received by Gramophone magazine and their recording of Schubert's Trio in B flat D.898 was the "overall first choice" from twenty recordings on BBC Radio 3's Building a Library; "the best since Casals, Cortot and Thibaud". Colin Stone's first solo CD, of transcriptions by Prokofiev of his own theatre music, was released in 1994 on the United label and was followed by a CD for Olympia of the two piano sonatas by D. Shostakovich.
Colin has a particular affinity with the music of Shostakovich, and during the 2006 centenary year, he performed at Cadogan Hall a single recital of all 24 Preludes and Fugues, Op. 87, a work that he has since recorded. With Rustem Hayroudinoff, he gave the first performance in the West of the two-piano version of the Fourth Symphony, Op. 43a. 'A revelatory performance of a spectacular 20th century masterwork. Hayroudinoff and Stone impress with their knowledge of the score, giving a well-prepared, gutsy performance' wrote Gramophone of this recording.
(cont'd)
Other recordings include major works for solo piano by Schubert, Chopin and Schumann and Prokofiev (piano transcriptions of Prokofiev's own theatre music) as well as music by such contemporary composers as Andre Tchaikovsky, Malcolm Williamson and Robert Keeley. As part of the London Mozart Trio, Colin has recorded Shotstakovich's two Piano Trios and the Piano Quintet.
The quintet recording has been much praised by the prestigious American Fanfare Magazine, which described Colin's playing as 'challenging Richter'. In June 2008, Classic FM Magazine nominated the CD as instrumental and chamber CD of the month. His most recent recording of violin sonatas by Busoni and Respighi with the violinist Krzysztof Smietana has yet to be reviewed but their performance of Beethoven's Spring Sonata is among the most viewed on YouTube.
Colin combines his busy career as a pianist with his work as a professor of piano at the Royal Academy of Music. He makes regular visits to the Far East where he teaches and performs. He is also artistic director of the LMT Chamber Ensemble, and Music at St.Mary's, a concert series in Harrow.