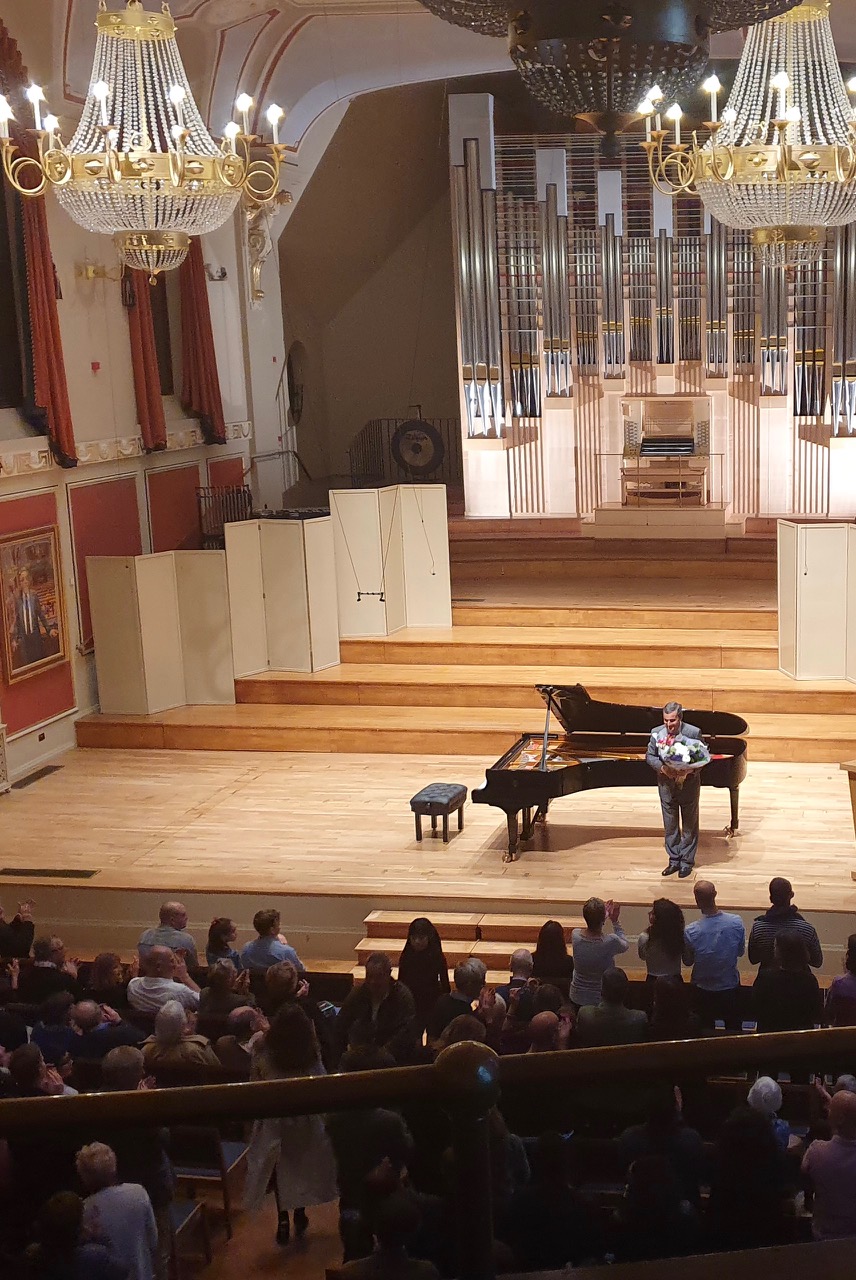 Concert for the National Brain Appeal at RAM
Much to my surprise it proved to be possible to teach effectively online and, with the recent relaxing of the Lockdown, I even managed to gain access to the Speech Room at Harrow School long enough to record one programme from my "Beethoven in Heaven" series. My primary audience, the members of CODA (based in Tunbridge Wells) for whom I was supposed to perform back in May, may wish to donate to the musical charity LMT Chamber Ensemble ltd.
In principle anyone can watch this concert. Beethoven Pathetique Sonata, Schubert: Andantino Varie and Lebenssturme (with Mayumi Iida); and the Sonata in B flat major D.960. It is on the following website,
Beethoven in Heaven
but you need to contact us at the email address below for a passkey, and a donation to fund future concerts in Harrow would be appreciated. I have also found time to curate a series of videos for YouTube by friends, colleagues and students entitled
Lockdown Bach
. There are some wonderful contributions.
A new decade and a significant year for Beethoven enthusiasts. Fifteen years ago I embarked on my first Beethoven cycle and much though I would love to revisit the 32 sonatas I am opting instead to curate a series of concerts with the theme "Beethoven in Heaven". I owe the title to Edith Vogel, who described the late sonatas of Schubert, written after the death of Beethoven, as being like Beethoven in Heaven. There will be a number of concerts throughout the year on this theme with varied repertoire including piano duets (with Mayumi Iida) and piano trios (with the London Mozart Trio) as well as solo repertoire. On October 10th 2020, I will perform Beethoven's Diabelli Variations and Schubert's last sonata, D.960, in St John's Smith Square in London.
It seems a long time since Krzysztof Smietana and I embarked on the cycle of Beethoven's Violin Sonatas and it is appropriate that it will finally come to a conclusion this year. With luck we should be recording the sonatas and maybe will be making some more videos for YouTube to accompany our gratifyingly successful perormance of the Spring Sonata.
In the meantime there are plenty of videos on my YouTube channel to enjoy. My latest YouTube video is an upload of a recording made twenty years ago in Potton Hall with the wonderful producer Trygg Tryggvason and engineer Andrew Hallifax of Schubert's Sonata in A minor D.845